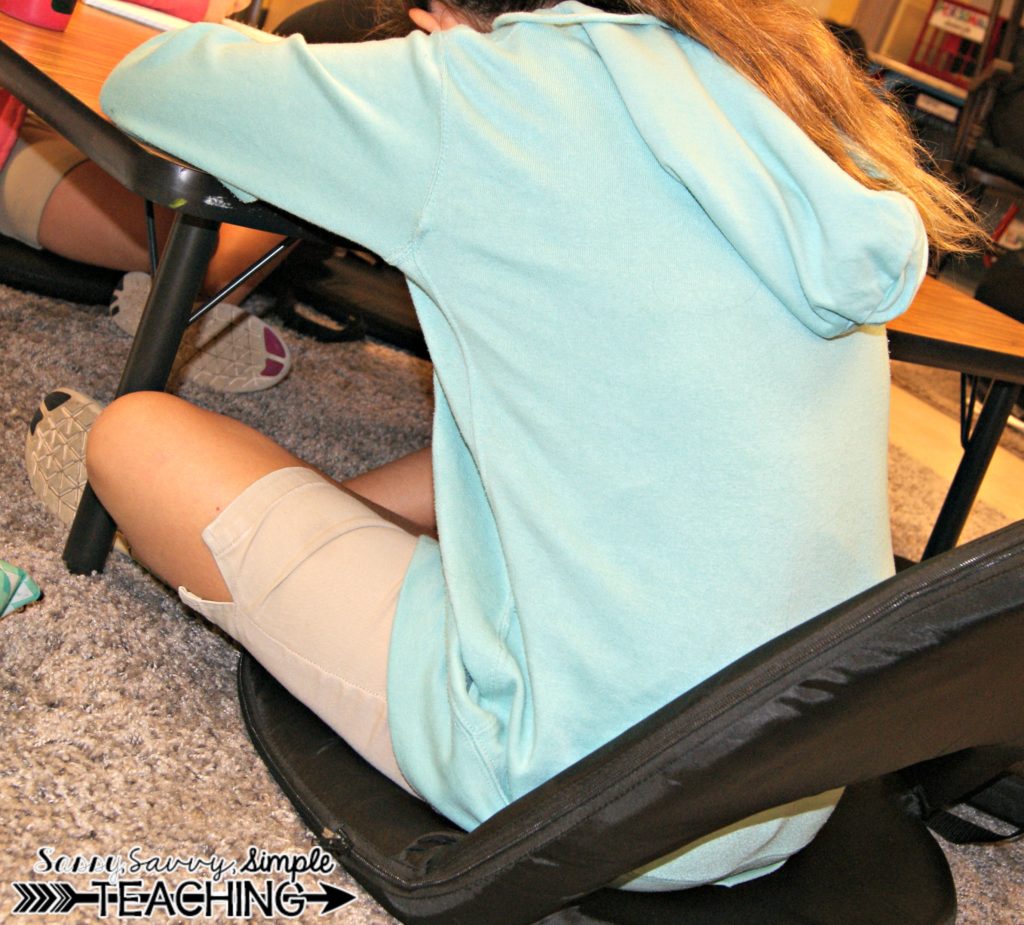 Flexible Seating, or also called Alternate Seating, provides a 21st Century Classroom for scholars! There is no better way to show you support a student-centered classroom, than creating a classroom from a child's point of view!
Comfortable Students = Student Engagement!
Classroom Ownership = Student Engagement!
Empowering Choice = Student Engagement!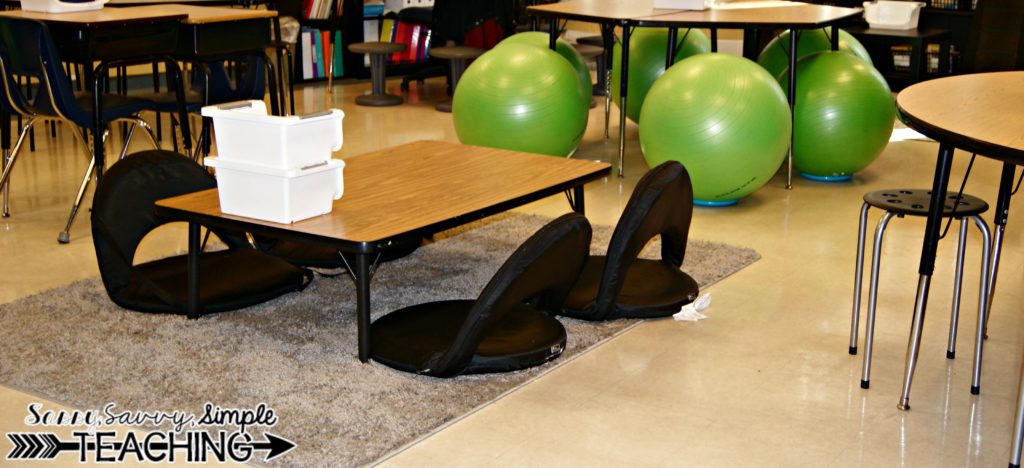 Being uncomfortable is unhealthy in numerous ways, but most importantly it does not improve attention and work ethic. As an adult, I can not or could not, sit at a desk all day in an expensive comfortable chair, let alone a student school chair. I get very uncomfortable, things start to hurt and all I'm focused on is how much longer I have to sit like that. I have no focus on my work at hand, let alone anything else. So why would we do that to students? When it's time for me to focus and work, I grab my materials and I CHOOSE a place to work where I know I can do my best. This is what I want for me and this is what I want for my students.
I am here today to share my journey of CHOOSING to create this environment for my students, the implementation, the reasons and more!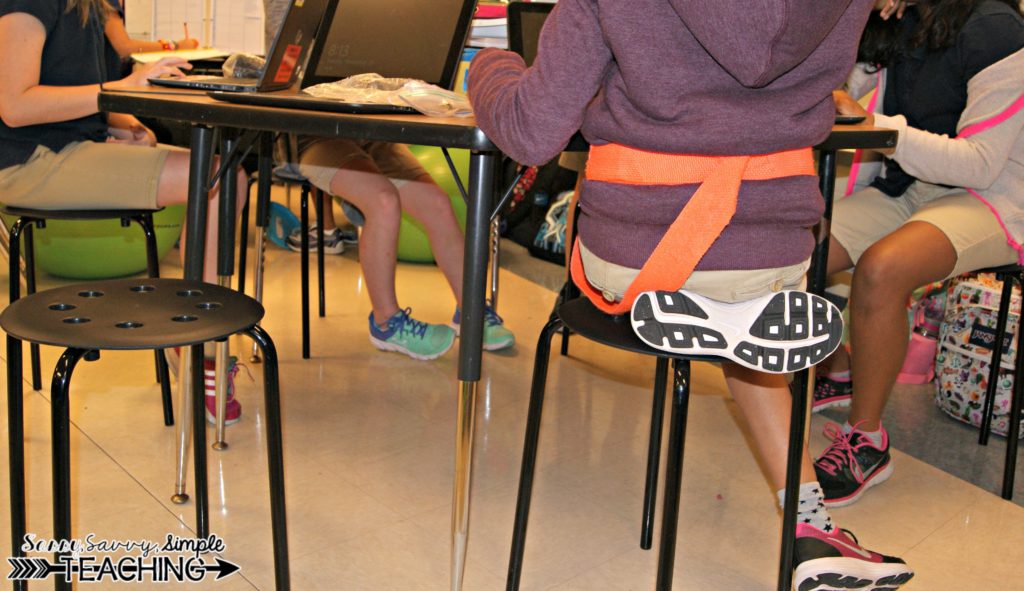 The Start of my Flexible Seating Journey:
Returning to the classroom in the Fall of 2016, I had a taste of the benefits that providing Flexible Seating to students as a Literacy Coach. My roommate and teaching bestie is the EC Lead and a 3rd – 5th grade Inclusion Teacher. She provided her 3rd-5th grade students Flexible Seating. At first I was skeptical, but as time past I loved it! Every day when I arrived at work, I kept dipping my toes in the Flexible Seating water. I observed the students daily, students with a variety of differences and similarities. I observed their work ethic, their listening skills, but most of all I observed their attitude. Our classroom was their favorite place to be each day! They felt like it was their own classroom and Mrs. Keiser, was their favorite person to be with. The student's attitudes towards school and learning told the whole reason for success in their career as a scholar!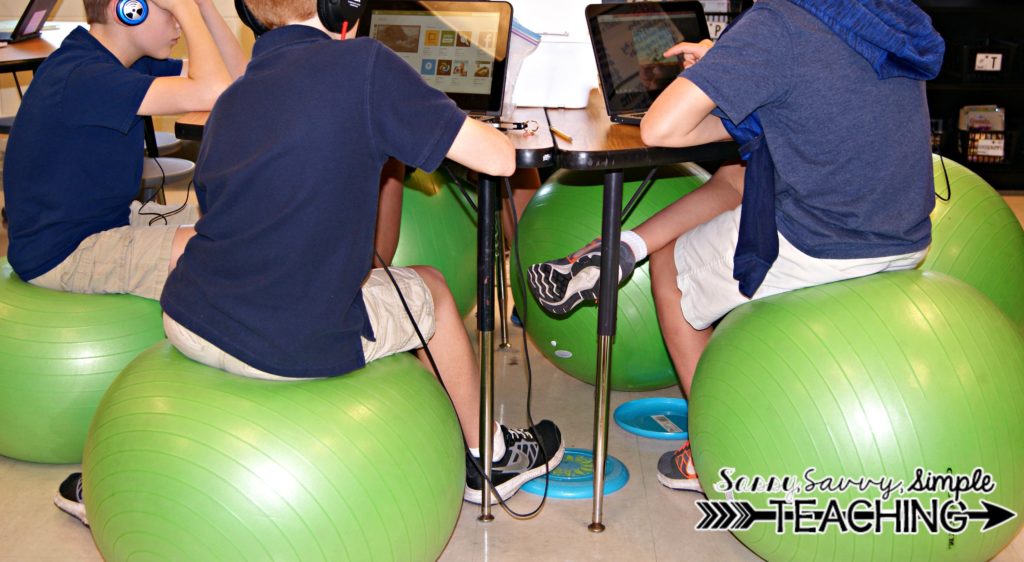 How I Implemented Flexible Seating in my Classroom: The Process of Transition!
I introduced the idea of Flexible Seating to my parents during Open House in Pre-Planning. I simply just spoke about it and shared information through a brochure and flyer. This was not a current trend at my school, so I knew it was a new concept to the parents. Midway through the first nine weeks after going through beginning of the year classroom procedures, I introduced the idea of Flexible Seating to my students. We looked at different photographs online of types of Flexible Seating in other classrooms in the United States. We then had 2 mini lessons. The first mini lesson was about what is Flexible Seating in our classroom. The second mini lesson was about the rules for Flexible Seating in our classroom.
Then slowly, from September to October, I switched out 1 table group of desks at a time. During this time, I allowed all students to try the new option for Flexible Seating. We continuously reviewed the rules of this new choice. We modeled proper and improper ways of using the new type of Flexible Seating. We continuously went through this process until my entire room was transformed. I left 2 regular student desks as an option for students who still preferred traditional seating.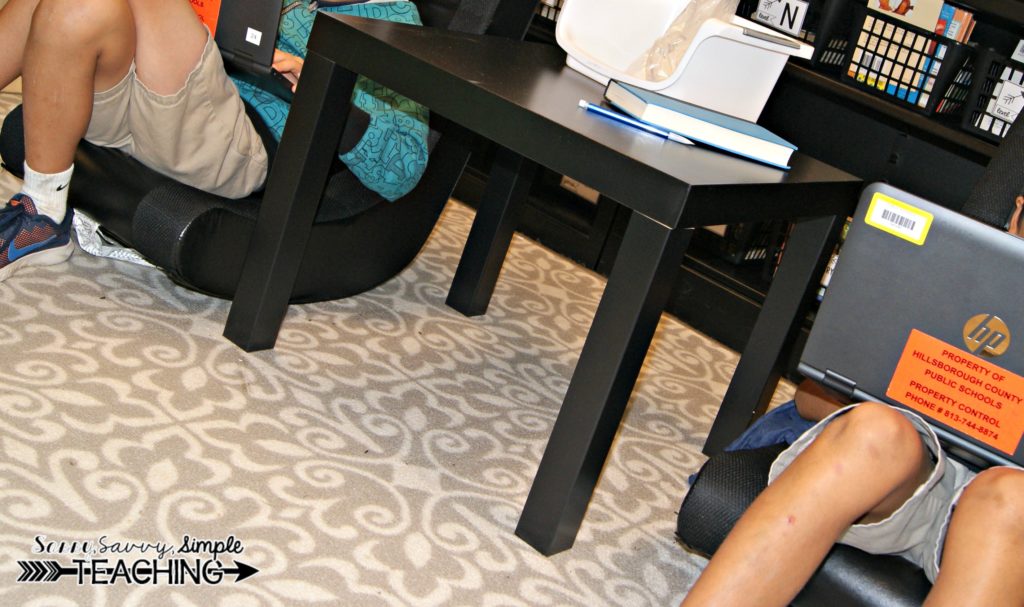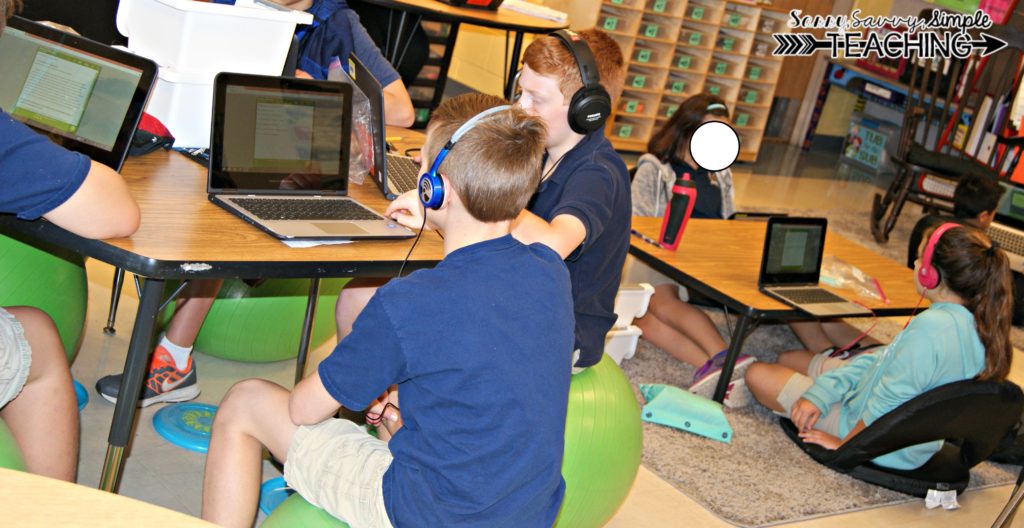 How I Offorded to Implement Flexible Seating In My Classroom: Tips and Ideas!
As a busy mother of 2 young children and a USMC active duty wife, I have little time to search and a budget! Therefore, I turned to the online garage sale groups in my neighborhood and community on Facebook. If you are not a part of any of those groups, you should be! Just log into Facebook and search online yard or garage sale groups in your neighborhood, town or community and join! Moving every 3 years or so, this is how I've always sold items. Here is where I scored 2 butterfly chairs for $10 and for $8. Next, I was selling some items online that wouldn't fit into our downsized home. I contacted a seller that was selling a black futon for $70. Long story short, she needed some of my items so we did a trade and I got the futon for $30! I spent $48 to get 4 great Flexible Seating options. Next was the stability balls. You can find inexpensive stability balls for cheap at local stores. But, I'm an Amazon girl. I save $ and time not having to drive anywhere and walk around a store. So I purchased 6 stability balls on Amazon at $10 a piece [Deal of the day!]. I did go to Walmart to grab 10 frisbees at $.10 a piece in the summer clearance section that my stability balls sit on [Teaching bestie's idea!]. The last thing I purchased were 6 black stack stools from Ikea at $5 a piece. So I personally spent $138 + tax on Flexible Seating for my room. For me to budget this over 2 months was not a huge strain, I say this because my students back to school shopping list covered everything and more that I would need for my classroom. What it didn't cover I put up at open house for parents to donate and send in [Idea- Next year post some Flexible Seating items for parents to donate or ask parents if they have anything at home they no longer use!]. I also get a little money for supplies of my choice. So I didn't even need to purchase much to start the school year.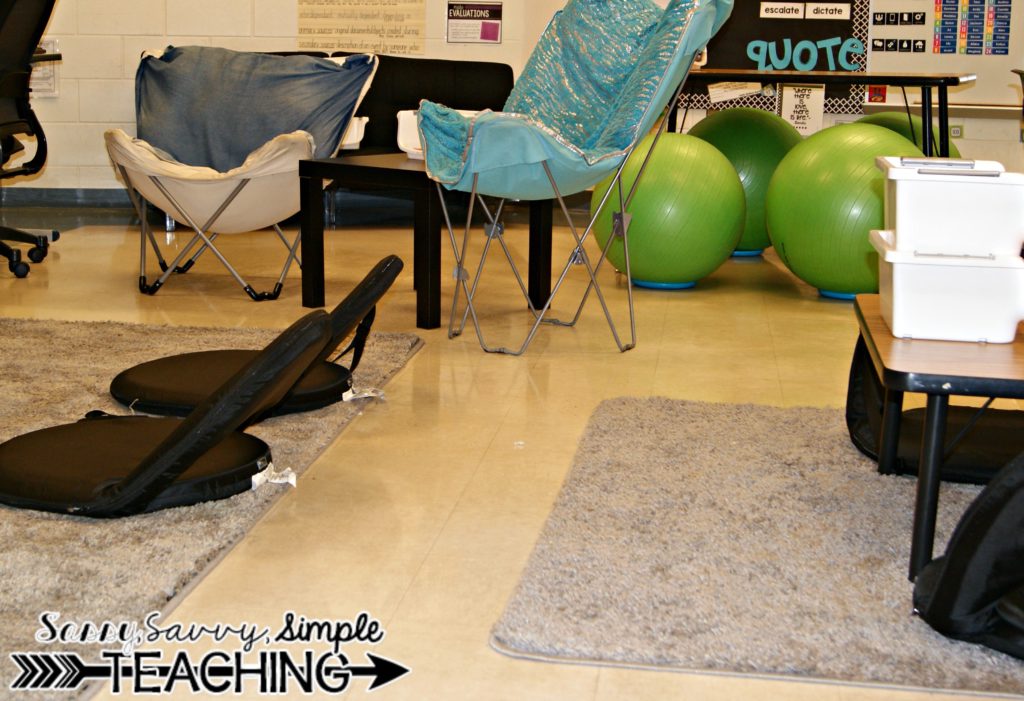 Next, I did a DonorsChoose project. All items came from Amazon and my project was fully funded! I ordered 6 stability balls, stacks stools, wobble stools, recreation stadium seats, video rockers and a rug! What a blessing! If you do not have a DonorsChoose account you need to sign up! When I sign up to places, I always "unclick" receive emails and stuff. But, DON'T DO THAT here! You want to receive emails so you know when there are people or companies donating to projects in your state, when they are matching to double your donations or more! Those are the best times to post a new project! It's so easy!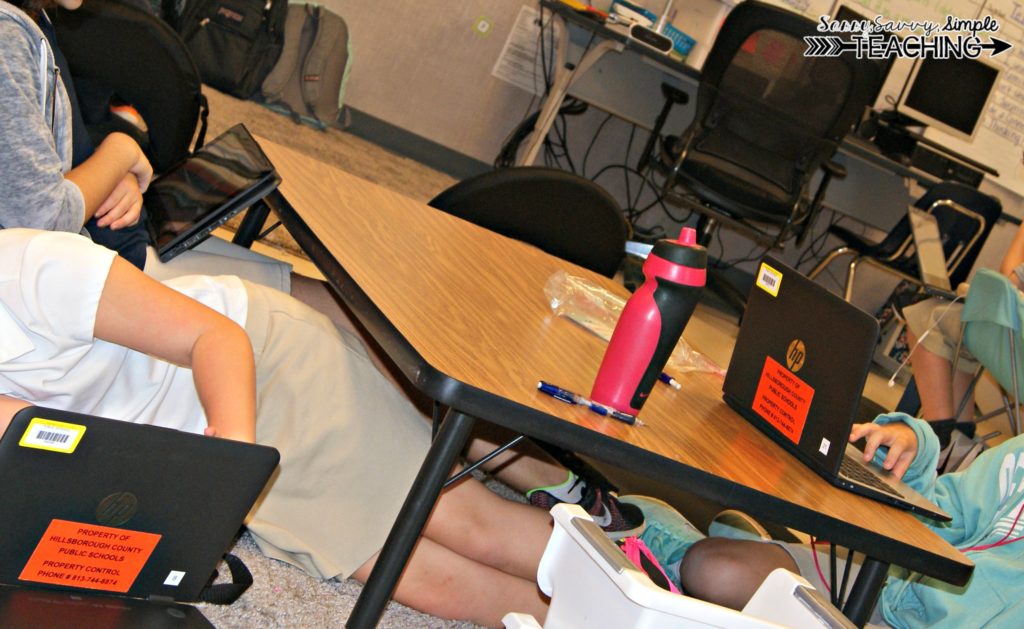 To grab any of my Flexible Seating items from Amazon, click on the titles below:
To grab the Stack Stools from Ikea, click on the link below: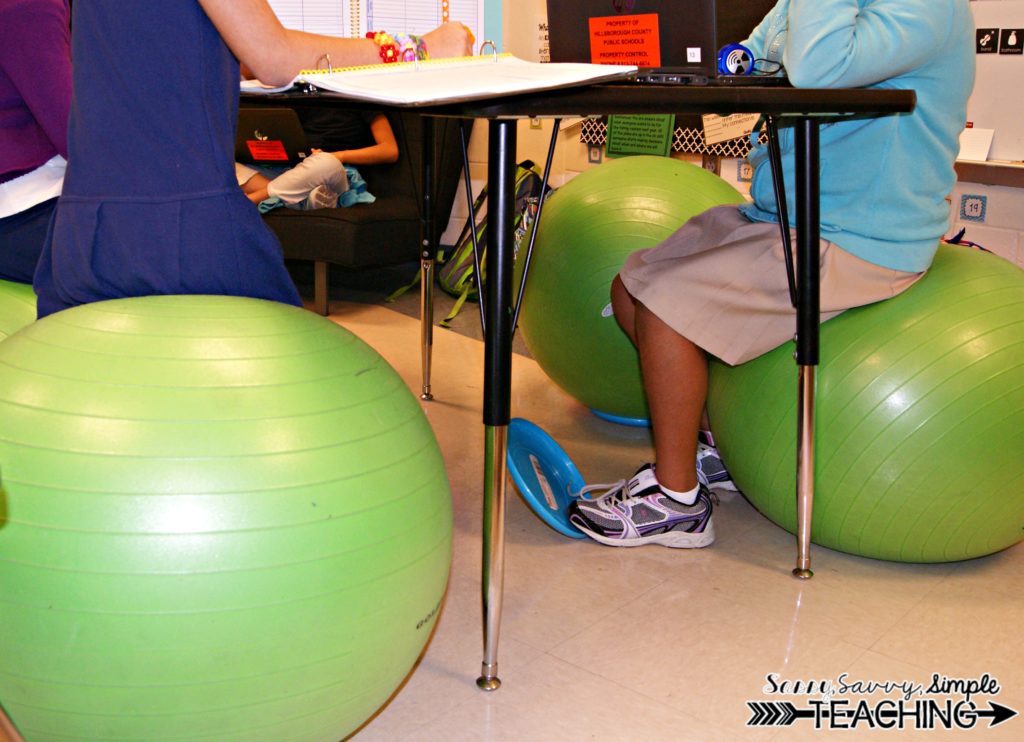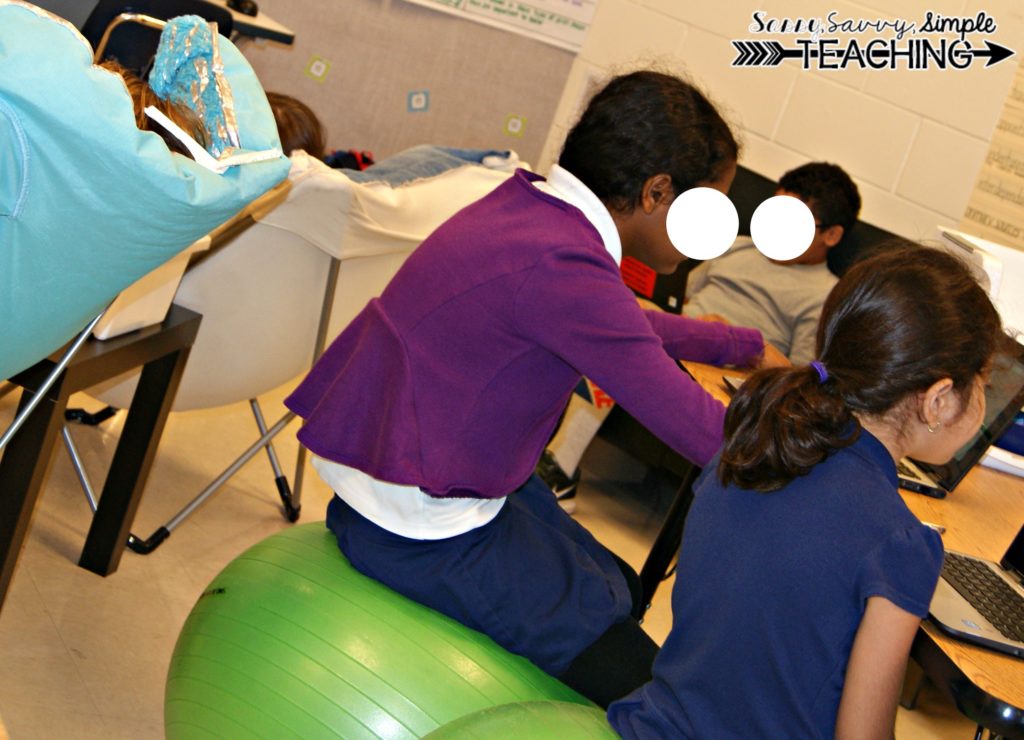 The Benefits of a Flexible Seating Classroom: Researched Based!
You can google Flexible or Alternate Seating and read about tons of information. That's what I did! It is a huge decision and commitment to changing and redesigning a classroom, so I wanted to make sure I was doing it for the right reasons! Here is what I learned from the research about the benefits of Flexible Seating.
Flexible Seating SUPPORTS:
Collaboration
Communication
Critical Thinking
Creativity
Oxygen Flow to Brain
Blood Flow
Better Posture
Core Strength
Burning Calories
Increasing Metabolism
Engagement
Focus
Better Behavior
Brain-Based Activities
Student Choice
Enhancing the Learning Process
Long Term Memory
Knowledge Acquisition
Information Retention
Higher Level Reasoning
Development in Life and Work Skills
Conflict Resolutions
Interpersonal Teamwork Skills
[The list goes on!]
Classroom Management:
Before implementing a Flexible Seating classroom, make sure your classroom managment is great! Students need to be aware of how your classroom functions. Make sure students know the following:
Caring for classroom materials and supplies
Entering and leaving the classroom routines
Caring for personal materials
Caring for classroom furniture
Understanding the roles of classroom jobs
Knowing where to locate items
Knowing where to turn in materials, check mailboxes and receive new materials
Daily classroom agenda
How we treat classmates
Most Importantly: HOW WE CARE FOR FLEXIBLE SEATING CHOICES
Have Flexible Seating Mini-Lessons too! Go over the expectations and rules!
Having these items and more in place means you do not have to teach your students how anything operates in your classroom. Yes, they are children so they still need directions and reminders. But, once you give them that they can do it without your assistance.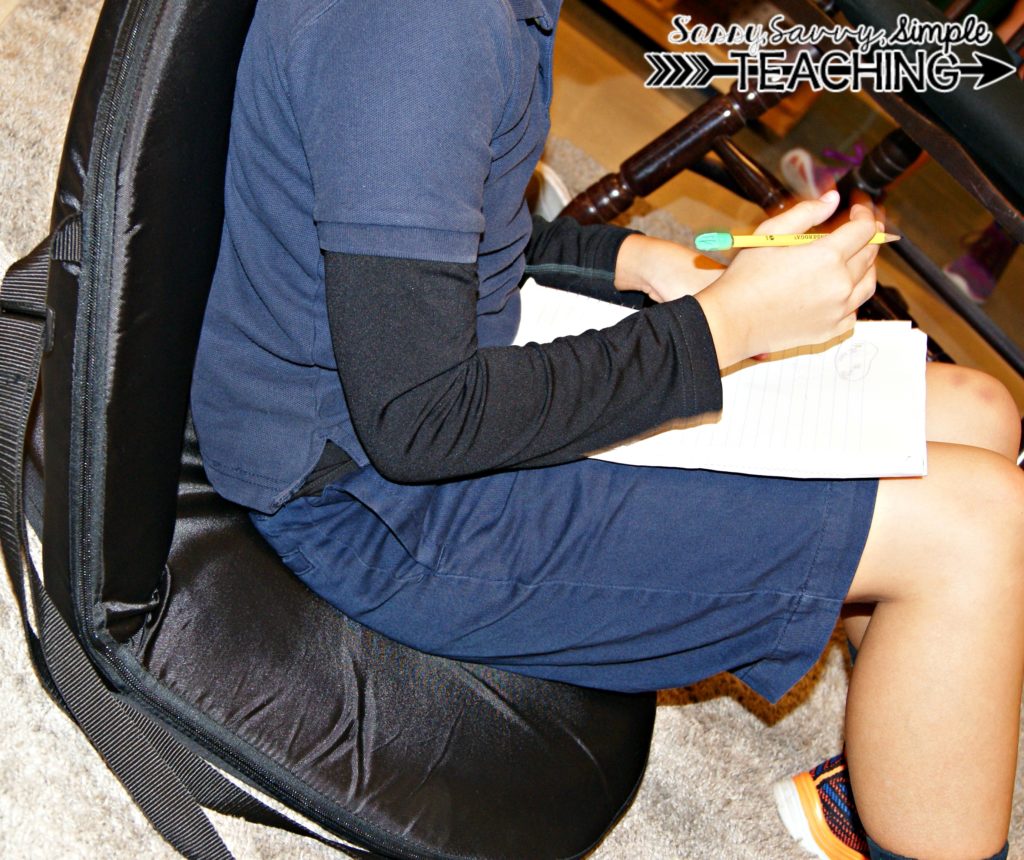 How we Rotate:
I teach 5th Grade ELA with 51 students currently. We rotate every Tuesday upon entering class. Some people rotate weekly or let their students pick when they arrive. I couldn't do that because 5th grade students have jobs around the school in the morning so they come to class last daily. Which meant they would never be walking into my classroom at the same time during the morning block. All of my students enter between 7:30 am – 8:00 am. So I needed a routine that allowed all students equal choices. I have a magnetic chart that displays seating choices and student numbers on magnets. Students are in line order, I simply call out the numbers and students go to the board, move their number to an open choice and go get started! I have a class roster, and everyone gets a turn to be first. I check the number of the student who starts first every week so I don't forget. The first week I started with #1, then the next week #1 went to the bottom and I started with #2 and so on each week. There's never been a problem, we have so many seating choices and students love them all!
(Click on any of the photos below or HERE for a direct link to this display!)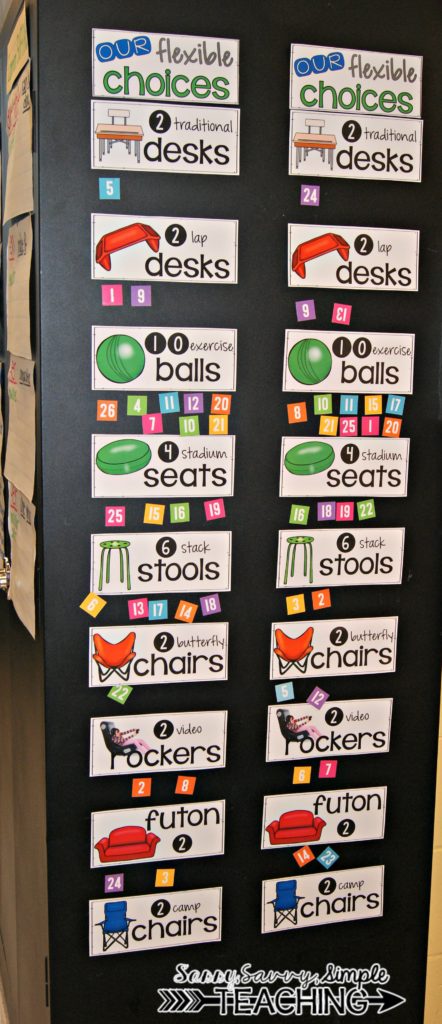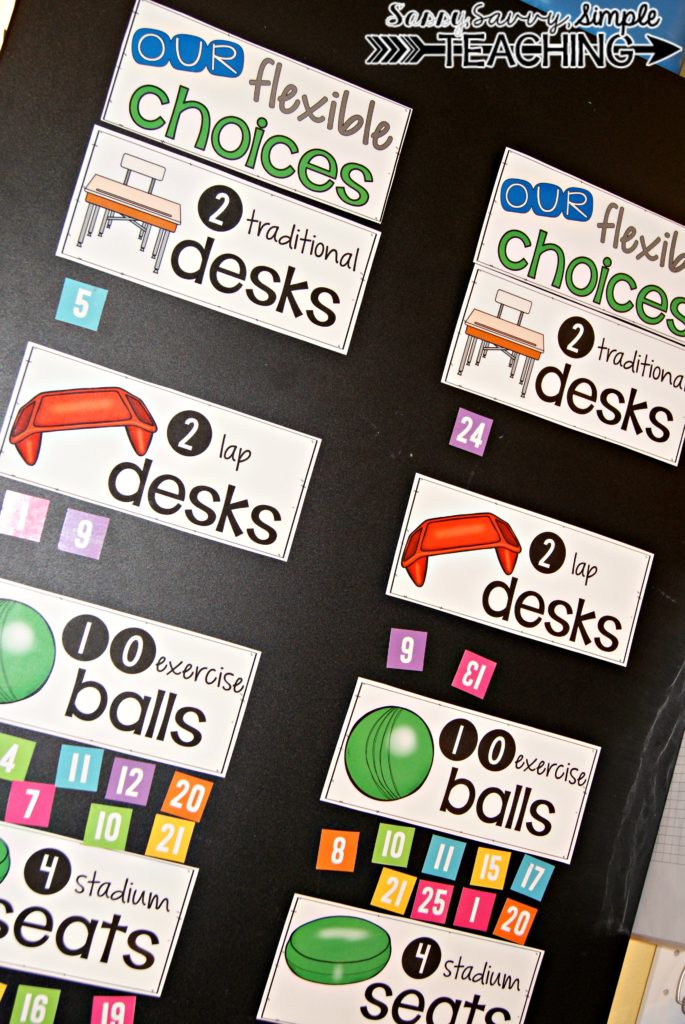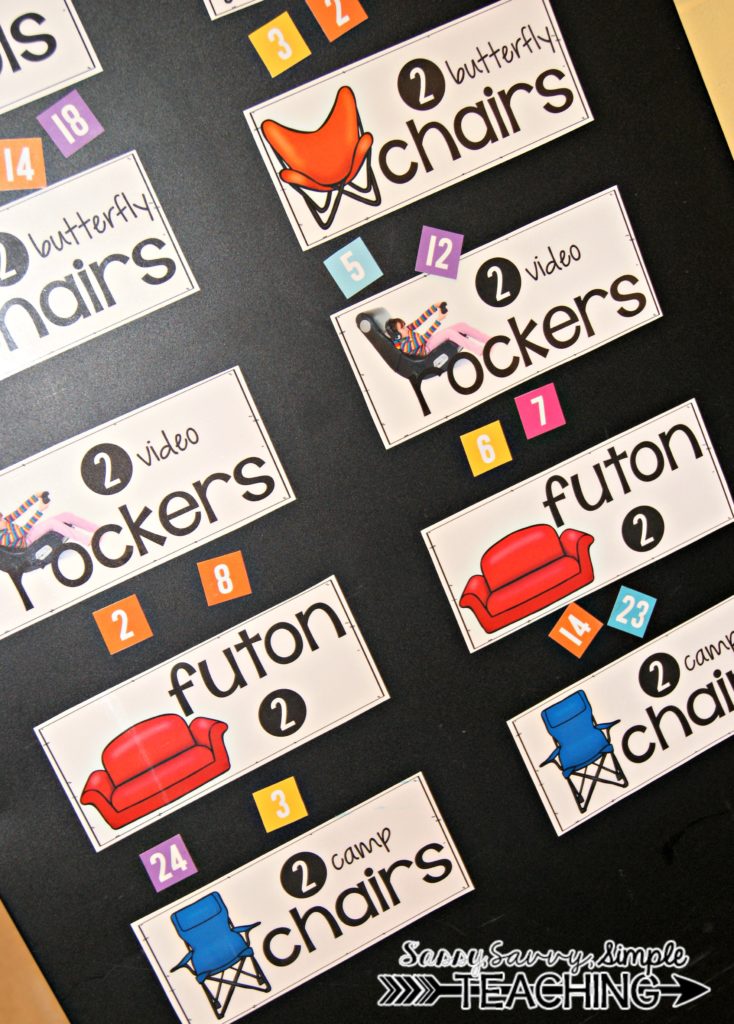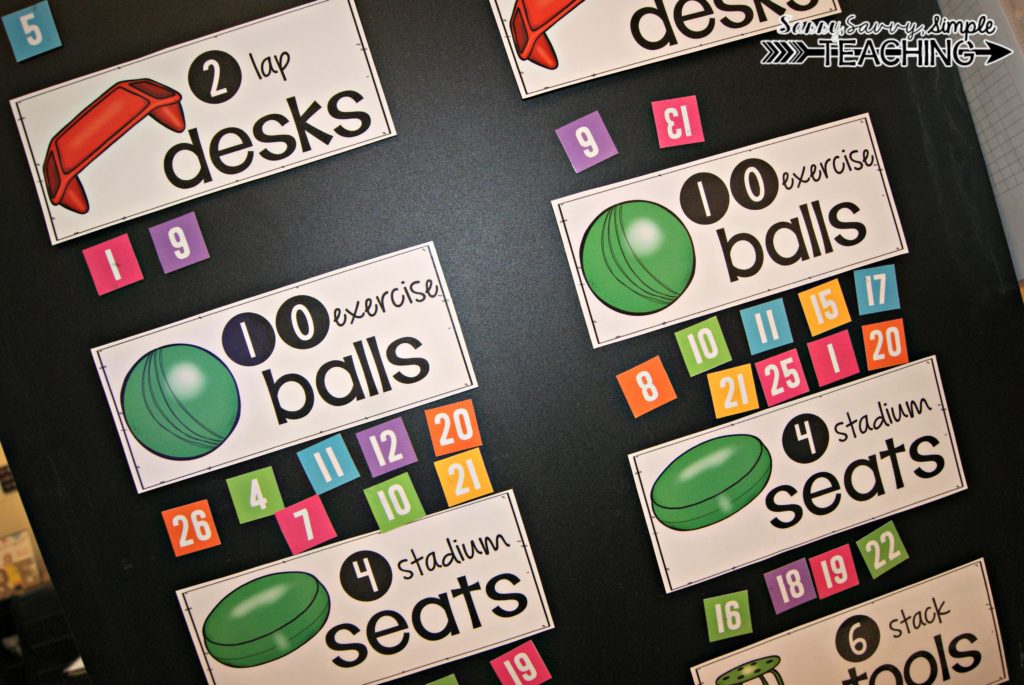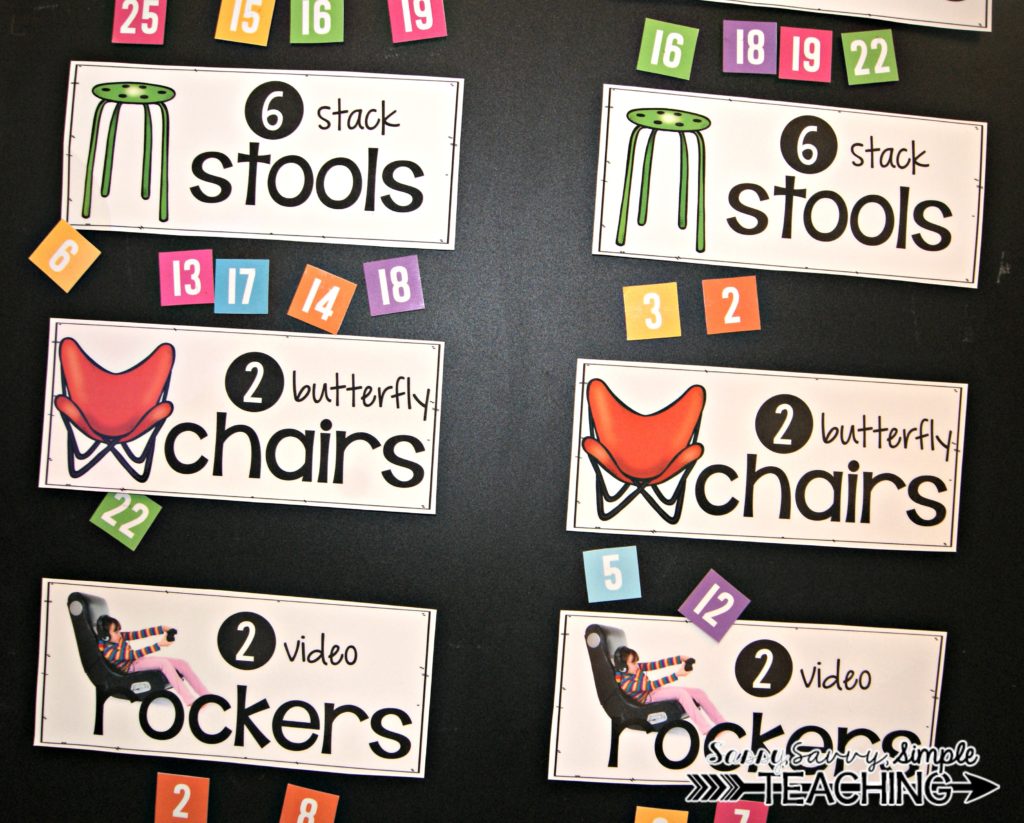 The Mental Teacher Shift:
This is a BIG change, and it is harder on the teacher than students. You are going to have to visualize the end goal of your room. You need to embrace the small changes on the road to your vision. The room arrangement will change and you need to be OK with that. Depending on the size and layout of your room, furniture might have to change positions. You are also not going to be in charge of telling students where to sit. Meaning, you won't be able to arrange students the way you like. You need to be OK with students lying on the floor, sitting on the floor, standing and more during your instruction and their work period. You also need to have organized storage solution to replace the inside of the desk, so you need to visualize how that will work as well. The biggest mental shift is that it is not your classroom to decide on the arrangement, it is now the student's classroom. Having a student-centered classroom means your room will resemble how 10 year olds [or the age you teach] feel most comfortable. Most teachers will have to let go, step back and facilitate the change in environment based on your student choices. Doing this is hard, but we are doing it for the benefit of students mentally, emotionally, physically and most importantly academically.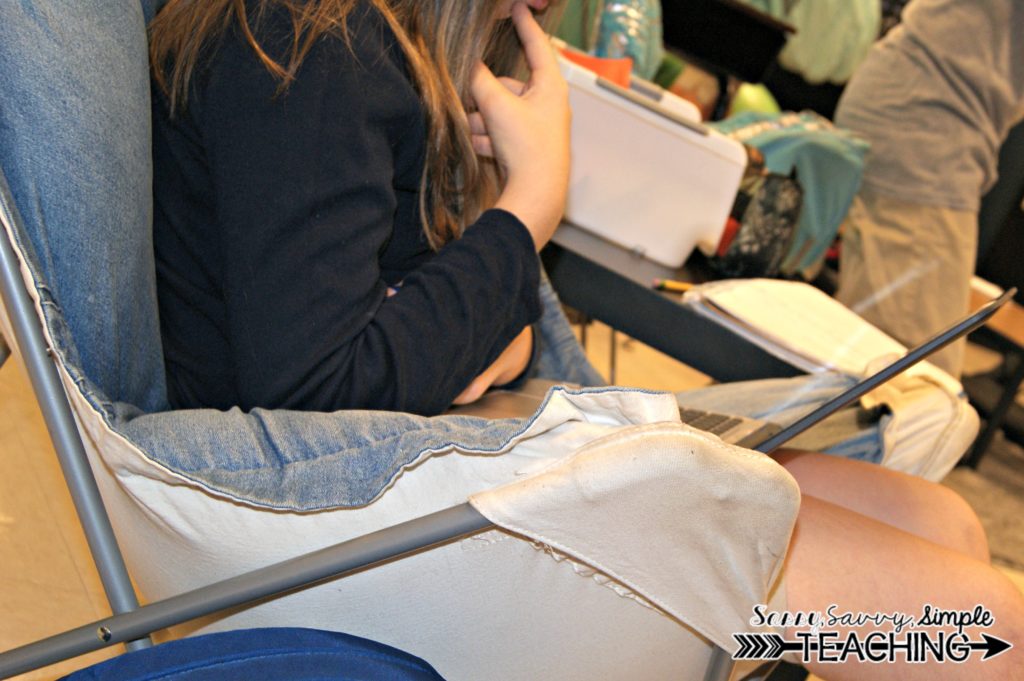 Student's Opinions:
Here are some examples of how my students feel about our classroom seating options. This is what they included in our Thank You letters to our donors from DonorsChoose.
"In my opinion, it helps our behavior improve because students have comfy chairs which helps us relax and stay calm." [5th Grade Student]
"The reasons I love Flexible Seating in the classroom are it gives me better back posture, it makes the classroom a nice environment to work in, and the seats are very comfortable." [5th Grade Student]
"The reason why I love Flexible Seating in my classroom is because I can have fun while I'm working and when I am enjoying myself while working I do much better." [5th Grade Student]
"The reasons why I love a Flexible Seating classroom is because it helps me focus and have fun while learning. It's improved my grades!" [5th Grade Student]
"The reasons why I love a Flexible Seating classroom are you can figure out where you want to sit because if you sit at the same chair ALL day that would be SO boring and SO uncomfortable. I can't learn when I'm uncomfortable." [5th Grade Student]
"I feel this learning environment helps me because I can concentrate more. Research says the Flexible Seating increases your blood flow, I think this help me." [5th Grade Student]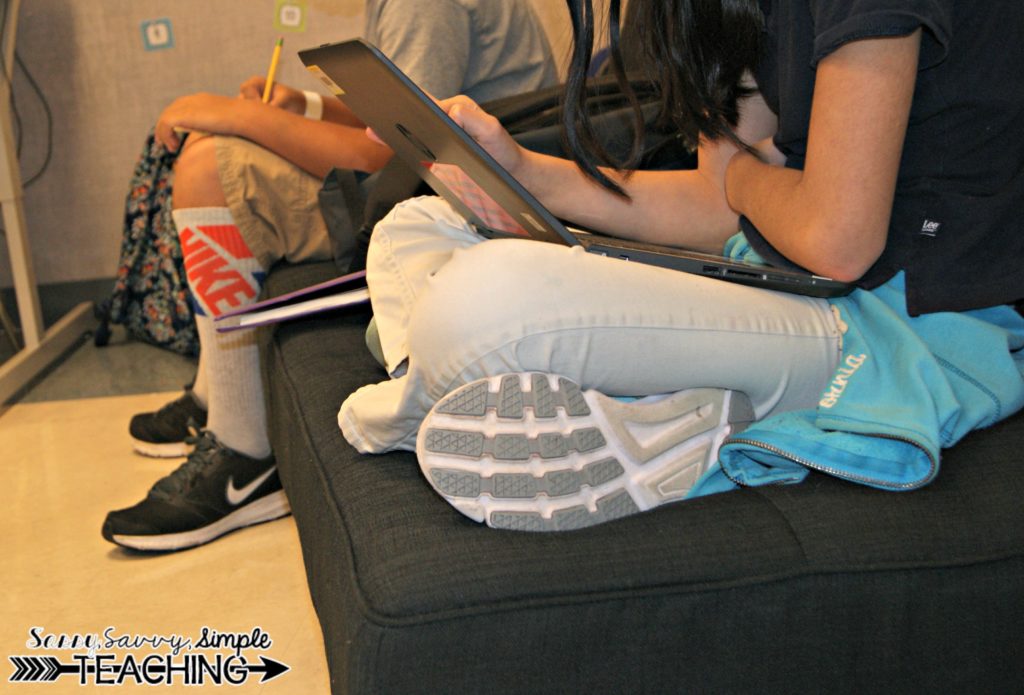 Parent's Opinions:
I posted to parents this question, "How does a Flexible Seating Classroom benefit your child in the learning environment, and how Flexible Seating empowers a Student-Centered Classroom?" Here are what my parents said:
"Tyler loves the Flexible Seating! He's more comfortable and it gets him excited about learning!" [Parent]
"Lily says the seating takes stress and pressure off her back which actually allows her to focus better and absorb more of what she is learning. Thank you!" [Parent]
"Quinn is always raving about the Flexible Seating arrangement! It allows him to get out some of his hyperactive energy without being disruptive to the class." [Parent]
"Sahana thinks Flexible Seating gives her more energy to be focused throughout class. It allows her to also be more relaxed in a comfortable environment." [Parent]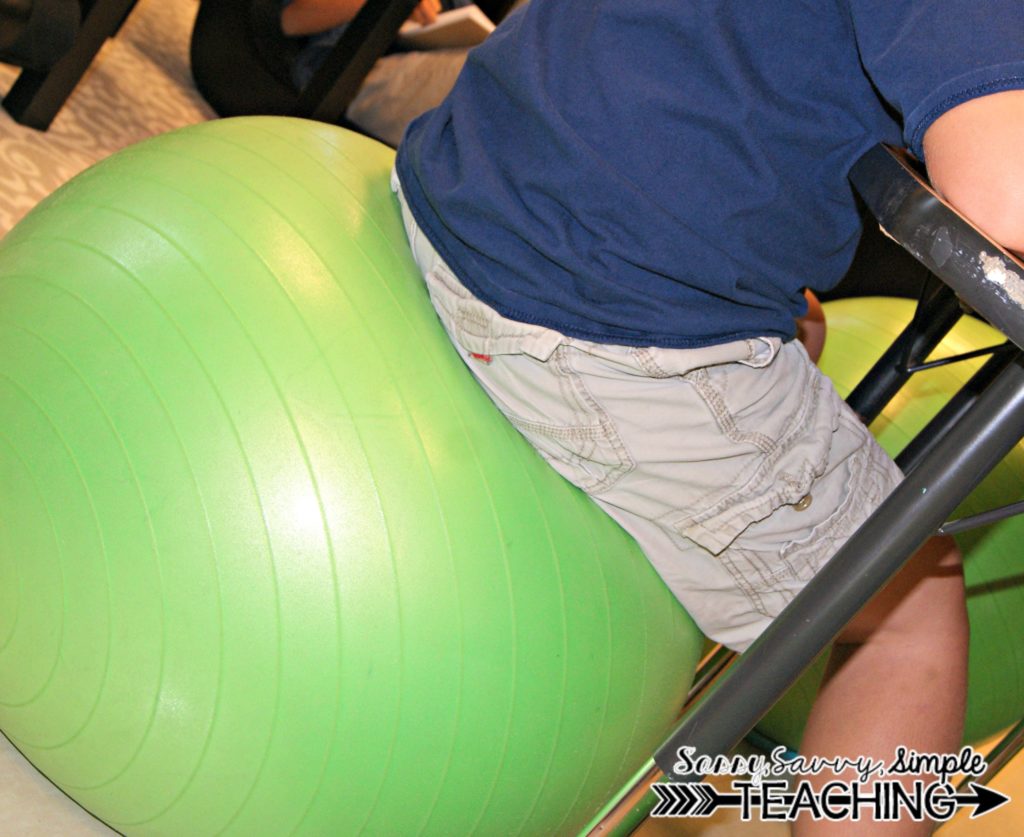 Why I will NEVER go back to Traditional Seating:
I have officially "ditched the desks" for good! I might even ditch the last 2 I kept for a traditional seating option in the future because students rarely sit there. I will never go back to traditional seating because I don't like it and neither do my students. How can I expect them to sit straight and still all day in an uncomfortable desk and chair if I can't even do that? I finally feel complete with the Best-Practices for students and have a complete Student-Centered classroom. I gear my instruction around the data that shows me what my students need academically. I used quotes based on my students actions and attitudes to teach character education. Now, I have an environment that is what my students wanted. My students wanted a comfortable seat next to their favorite peers and they have it. I've gained so much more by doing this, I've gained student trust and appreciation. The students are comfortable with me and thankful for me. The students enjoy being in my classroom and by giving them the power of choice, I now have their undivided attention at all times. What else could you ask for? I want my students to be healthy and happy, a Flexible Seating Classroom cultivates an environment for better health and better education.
Things to Consider:
Budget
Space [vision multiple arrangements]
Seating size [think of the age of students you have]
Be thrifty and crafty [search yard/garage sales and thrift shops, spruce things up]
Make a plan of implementation
Put feelers out to administration and parents
How you will allow choices
Look for tables not being used in building and adjust legs to wanted height
Ask parents if they have unused items to donate or money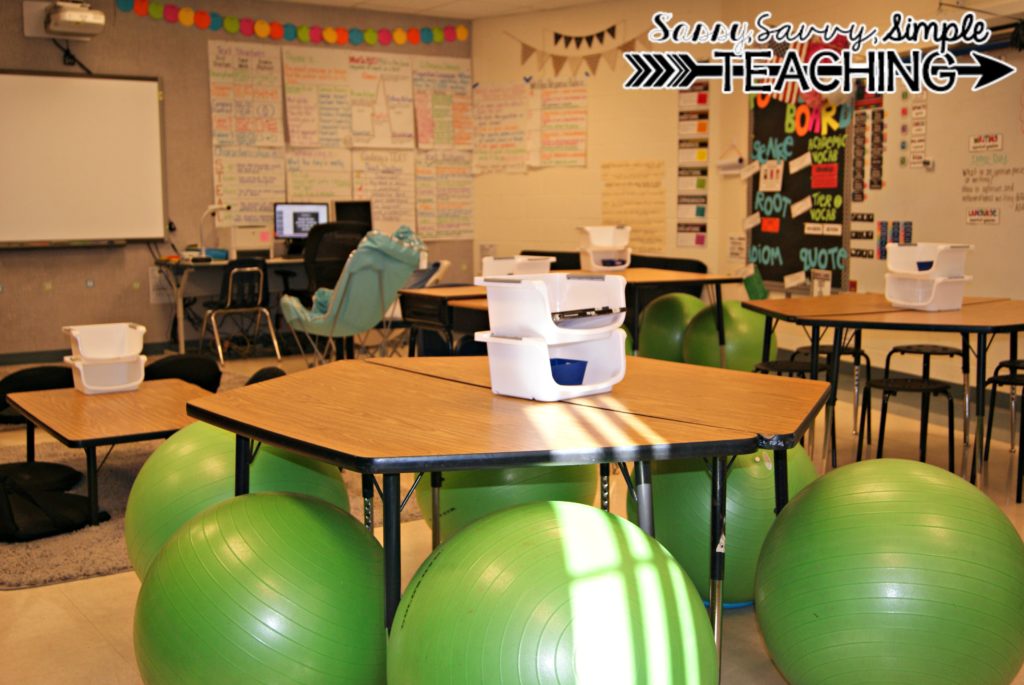 So, that's a wrap! I hope you find this post about Flexible Seating inspirational and helpful!