Welcome to the Blog Series….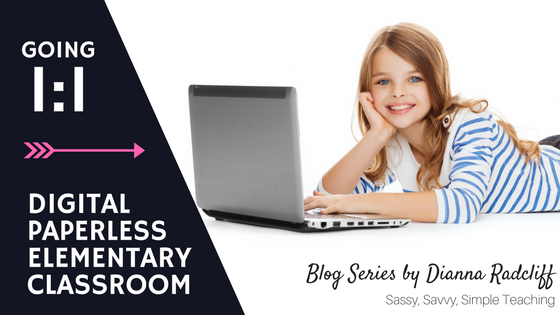 Today's topic…

Are you moving towards a 1:1 Classroom? Or are you there? Well, if you are there or you are going to be there, I believe you are here reading this blog post today because you are in the beginning and feeling a bit overwhelmed. I know it's hard not to worry, but give yourself credit for taking on this adventure! Your feelings are completely normal and will change over time!
This quote is very inspiring to me and it motivates me more as an educator every time I read it.
"We need technology in every classroom and in every student's and teacher's hand, because it is the pen and paper of our time," "It is the lens through which we experience much of our world." (David Warlick)
It's how we function and as an educator I want to be current and give my students the tools and knowledge to succeed way after they leave my classroom!
So let's dive right in! I'm going to cover a few subtopics about our main topic today which is Getting Started in a Paperless Classroom.
PROS and CONS of a Digital Classroom:
When you think of PROS and CONS of becoming a Paperless Classroom, this does not mean not using books! Especially literature! There's no ban! It also doesn't mean that there is no using paper and pencil for different things. Think about yourself, I still have a little notebook of lists, notes, calendar, etc… I still read paper books and digital books. I just don't have spirals and binders of things on shelves as much as I use to have. I communicate, prepare, research and do more digitally on a regular basis.
PROS of becoming a 1:1 Classroom:
No more wasting tons of paper for student activities that just goes in the trash can eventually.
No more collecting packs of paper and notebooks for student supplies at the beginning of the year (storing it too).
No more running to the copy machine each day and wasting copy paper. Better yet, freaking out when the copy machine is jammed or standing there forever making copies for every student. You also get to skip the lines!
Saving your school and your parents $ in the long run.
Having all your student work and copies in one place! Talk about being organized!
Students are HIGHLY MOTIVATED to complete tasks and activities!
Students are really entering 21st Century Leaning when they become digital!
Students are becoming Tech Savvy!
Students are becoming Technologically Fluent!
CONS of becoming a 1:1 Classroom:
It takes time and patience (a lot of patience) to become a digital classroom.
You will need to do some front loading work as a teacher of a 1:1 classroom. This may include: preparing folders, sharing documents, scanning documents, uploading documents and items like this but it is completely worth it!
Students will need a lot of time to become self sufficient and independent. This is why I recommend having tutorials for bellwork or homework. Also having the technology department come in and train students. (Use your resources!)
You will have to pretend you are training a brand new puppy sometimes. You will have to model and demonstrate multiple times, very slowly for students to learn how to navigate around the platform you are using and to use tools. But once they get it, it's totally worth it!
It's a little hard to share what you do and your student work within your building if your co-workers and admin aren't tech savvy yet. But time helps, just keep on going and try sharing.
Sometimes the internet or technology does not cooperate. It happens, but guess what. The kids will still be more motivated when you are up and running again regardless, which is powerful as a teacher.
Putting Devices in Student's Hands:
Many states, counties and schools are moving more towards spending funds on technology rather than text books and other resources that constantly go out of date and need replacing regularly (like orderings tons of copy paper and paying for the copy machines). Funds are always changing and many classrooms are accumulating groups of devices or a device for each student.
If you are not in this position just yet and you want to accumulate devices my best suggestion is DonorsChoose. Most teachers have already created a DonorChoose account and utilized the website. If you are not one of those teachers, I suggest you start there and create an account. There are tons of articles online to help you prepare a project and make the most of it.
I have 2 big tips:
#1- Create and save projects before submitting to go live. Always go live with a project when DonorsChoose is offering a match program that your project fits into.
#2- Always share with your class parents!
Now with that being said, a big caution. Before you accumulate devices on your own, contact somebody from the technology department at your county office. Each county is different and goes about devices differently. Make sure to ask questions about devices that are compatible with your county, internet, accounts, etc…
Choose a Platform to Use:
Decide what platform you will be using. Some counties or schools use Google and some use Microsoft Office 365. Some don't use anything and leave it up to you to decide. Or you may just want to use the old fashion way of the Microsoft suit and a flash-drive. Either way, this is another great question for your technology department. You definitely don't want to start using something and then get comfortable only to change because your county or school is going in a different direction.
If you don't have a platform, I suggest you start with 1 web-tool at a time. Something simple to teach students a standard in a content area while integrating technology. Different web-tools can deliver key ideas and concepts to students while promoting collaboration and paperless classroom methods. For example, you can start with Flocabulary, Kahoot, Prezi or something simple like these.
What You Should be Doing Now:
Learn how to troubleshoot! Yes, because if you don't then you'll beat yourself up and never want to be a 1:1 classroom. So many failures will be very discouraging. Go to the Technology PD your county offers, make friends with all technology workers (they usually always have their cell phones on them), and my most important tip is to do a little learning on your own. YES! Take a few hours a week to go through YouTube Tutorials, read blog posts and browse the internet.
Honestly, I have a few specific technology mentors that I'm always contacting for advice and questions. Then I spend a lot of time immersing myself in Technology platforms and just playing around. I read a ton of blogs and websites, but my favorite is to find something I really like to use with a standard and watch a video tutorial. I love watching a tutorial because I'm on the couch and I'm able to pause it, go try and continue on. It's how I learn best.
Nobody will teach you everything you need or want to know. Going 1:1 is a challenge and you are 100% responsible for how things go in your classroom. It's up to you to be proactive! You will get help along the way if you are and you seek it.
What to do if Things Go Wrong:
Have a back up plan! You will need to keep some paper and pencils in case troubleshooting problems is a big fat frustrating fail. This happens to me from time to time and it's hard.
So sometimes I just have students quickly shut down and I try to keep the lesson moving. Hey, I always say teachers are the best low paid actors ever! So just keep moving, I continue to project from my screen on the SmartBoard and have students do what they need to do the paper and pencil method. We keep their work and transfer it digitally the next day when we are back up and running.
Another suggestion I like to use is just recording for the day. You can still use the the camera option on all devices to record conversations, whiteboard answers and more! Talk about a fun improv! Save everything and then just like above, transfer it digitally the next day when everything is back to normal.
Shift in Classroom Culture:
Shifting your classroom culture successfully is perceived as moving into a 21st Century Current Classroom. The teacher becomes a facilitator. Becoming a facilitator is what makes this classroom setting work. When your daily plans start to look like collaboration offerings rather than assignments, you know you are winning. When you become the 21st Century Teacher who facilitates learning and coaches students, you now know you are entering a 21st Century Learning and Thinking classroom. (This is probably on everyone's teacher evaluation, wink, wink!)
For many teachers, to be honest this is hard. I get it, it's hard to be a facilitator at home with my kids too. But, it takes time to break habits as we all know. I just keep telling myself this is needed for future success of my students. Shifting your classroom culture can be a hard pill to swallow, but I'm here to tell you the students will thank you and you will thank yourself. I'm not perfect, I have a lot of work ahead of me, but my mindset is there. I've had a taste of not being center stage and the outcome for students to grow independently among each other is awesome!
Setting the Protocol:
Just as you have done in the past with accountable talk, you want to do with your paperless classroom. Teachers must set the tone for online etiquette. There are a ton of resources online to help you teach Digital Citizenship. This is a must for all ages. We have digital footprints and students need to be aware of how they can harm themselves and others. Set the expectations of online communication, resource sharing, collaboration, question asking, communication threads and a virtual environment.
I promise you, there will be a few hiccups in student's misjudgments. They will be caught and they will teach themselves and their classmates a lesson. It happens every year. Just like improper behaviors in your classroom during instruction, you continue on after handling the situation. You need to do the same with improper technology behaviors. Handle the situation as needed, and continue on.
Tips for going Paperless:
Let students know you are not the expert! They are use to the teacher having all the answers. Let them know you are learning together!
Plan for continuous change. You cannot set up shop the way you are use to doing. Things are constantly changing with technology and implementing it in your classroom is no different. How you normally set up your classroom or your daily schedule will change. It's fine, just breathe!
Set a goal per week. Kind of similar to if you are teaching a standard per week. You introduce the standard on Monday, model and practice all week, then assess on Friday. Same thing, make one goal per week with one specific piece of technology, app, site, etc… Immerse yourself into one thing to learn it well together with your students. DO NOT try to use many new pieces of technology each week. (Patience and time will get you further!)
Make a few Technology Mentors! Yes, it can be in person or virtually but you need examples to follow. It will make your life easier. Find people who are using things you want to use or who are doing things in their class you want to do.
Listen to your students! Seriously, don't laugh! There are 3 types of students in my experience with technology. The first, have no idea (you need video tutorials for these friends and a buddy system). The second, they think they are "techy" because they can use apps (so can my 5 year old). The third, they know a few things! They can troubleshoot, they get software and programming. Listen to your students as they will guide you to answers and guide you to what you shouldn't do a repeat of again. Another reason to listen to your students is to use as a guide to things you should continue with or leave behind. Just like in a regular lesson, we all think that was fantastic I'm going to do it again. Or, we may think that was garbage and I'll never do that again.
Share what you are doing in your building and beyond. Yes, there are many like minded people like you. Everyone moves at different times, the more you share the more you help others! As educators we are here to help our colleagues rise in all ways. It's not how can I be better than _____, it's how can I be better to help other teachers and their students.
Always share with parents! Digital work is so simple to share with parents quickly. It's a fantastic opportunity to build community relationships with your main stakeholders, the parents.
Don't be a quitter! I tell my own child, we can try whatever sport or activity you want. But, you will finish it. You don't have to do it again if you don't want. The same with implementing a 1:1 classroom. You have to see it through. Give it your best shot each day for a school year.
I hope there are nuggets of information you can walk away with after reading this post today! Stay tuned as this blog series will continue next week.
Please leave any questions and I can try to answer!
You might also be interested in my #DIGITALLITERACY resource line based off of blending Traditional Reading Workshop + 1:1 Technology. You can read about it by clicking HERE or on the image below >>>
Be sure to follow me along my journey! Direct links to my social media are on the top right of my page:-)