Welcome back to the blog series!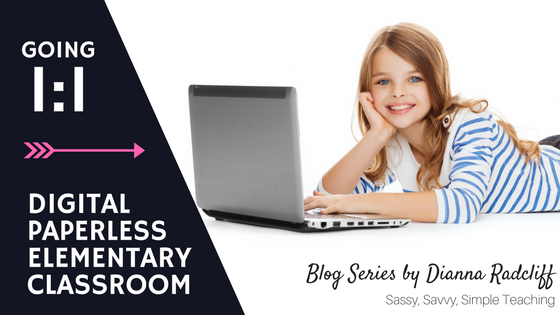 To re-cap, the first blog post discussed "The Beginning" of your technology journey and things to think ahead for. The second blog post discussed "Caring for Technology" as another topic you need to prepare for. If you missed either of those posts, click below to read!
Today, I will be discussing how to choose your "Technology Assistants" and why this is important.
Everything really depends on the types of devices you have, how many and the age of your students. Things to think about are:
Why is this important?
This is veeerrrryyyy important because you will need your mind and hands free to continue instructing lessons and small groups. Students will need to become independent by learning to troubleshoot on their own or knowing who can fix their problem.
Think of this process as "Developing a Student Technology Team" that can be selective or viewed from a whole class perspective.
Determining What is Important:
Yes, you need to make a list of what is important to you when "Developing a Student Technology Team". How many devices, what types of devices, how will the devices be utilized and most importantly, what do you need done daily that would help keep your hands free for instruction.
As a 1:1 classroom with laptops here is what was important to me when selecting trustworthy and capable students to be "Technology Assistants":
Handles computers gently.
Organizes charges and cords for class properly on charging cart.
Checks that all computers are in their numbered housing spot.
Knows how to fix loss of internet connection.
Knows how to move around Microsoft OneNote with ease.
Kindly will model for others.
Will kindly sit with others and facilitate their navigation until they become independent.
Has a good repoirt with classmates.
Able to always complete their work when time is taken from them to assist others.
Good attendance.
Think about your classroom dynamic, what is important to you?
When do I Begin To Use Technology Assistants?
I would love to after the first week, but that is not the cards I'm dealt. I am the only 1:1 classroom at my school and the only classroom who utilizes Microsoft Office 365 and OneNote daily. Therefore, this is all new to my students.
Now you may be in a different situation. You may have incoming students with experiences in their previous grade using the devices and programs you will be providing as well. So keep that in mind. Definitely know a little technology background of the teachers and students in the grades below you.
So, throughout the beginning of the year I watch and listen to see what students fit this criteria. Once we are far enough along and I'm feeling they are ready, I choose "3 Technology Assistants" a Week from my "Student Technology Team" to help. I like to have 5-10 students that I can trust and feel confident in to be on the "Student Technology Team", however, I do not want them to be an "Assistant" each week. I feel that is not fair, they are young and need a break because it is a HUGE job.
So let me go right ahead and answer a few more questions I know you are thinking!
Yes, I have classroom jobs like other teachers. I personally rotate those jobs monthly. Technology Assistants for the week from my Technology Team are separate.
No, this doesn't hurt peoples feelings. First, I'm in 5th Grade, my students are very well aware of their technology abilities. Laptops and using Microsoft Office 365 is waaayyy different then apps on tablets. Second, students become relieved to know they have classmates who can help and they don't need to interrupt my small groups or conferences unless it's an emergency.
3 strikes and you're out policy… If anyone on my Technology Team is rude or unkind in assisting classmates, the 3rd offense and they are gone. Trust me, no matter how techy they are, you don't have time to deal with those instances and it's not fair to others.
Yes, the "Technology Team" can grow! Throughout the year students who started off struggling will surprise you. Students can be pros of certain things. Keep your eyes open as students definitely grow in becoming independent with the technology you are putting in their hands.
How are "Technology Assistants" Recognizable to Peers?
Again, I'm in 5th Grade. I don't display the small group of students I have chosen as a part of my "Student Technology Team". This is something I just speak to them about privately when asking if they are willing to commit, along with my expectations and rules. Yes, my monthly classroom jobs are displayed.
My "Technology Assistants" for the week have a lanyard (click here or the photo below for a direct link) they wear in the classroom. I use the lanyards below and hang them on a command hook. I have their names written on the board. So if a student in the class is having trouble, they can "Ask 3 before Me!" and they know by looking at the board or for the lanyard who to quietly go ask for assistant.

I hope there are nuggets of information you can walk away with after reading this post today! Stay tuned as this blog series will continue next week.
Please leave any questions and I can try to answer!
You might also be interested in my #DIGITALLITERACY resource line based off of blending Traditional Reading Workshop + 1:1 Technology. You can read about it by clicking HERE or on the image below >>>
Be sure to follow me along my journey! Direct links to my social media are on the top right of my page:-)