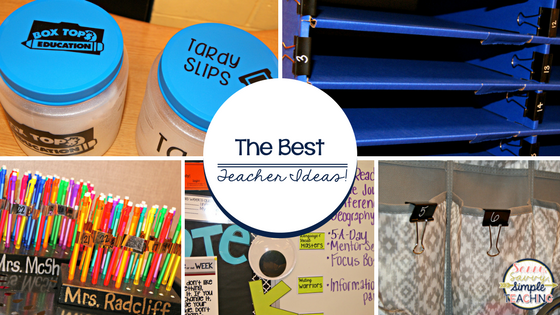 The Best Teacher Ideas for your Classroom!
Not only are these ideas simple to create, they are also cost-effective and improve your classroom management procedures and routines.
I created these items for my own 5th Grade ELA classroom in no time and with little cost, which made me very happy considering the powerful outcome they have had.
Try out these Teacher Ideas to simplify routines and procedures in your classroom!
Make sure to Pin the images below to save these ideas for your classroom!
#1 – Box Tops and Tardy Slip Jars
I personally cannot stand when students walk up to me with either Box Tops or Tardy Slips in their hands. Or finding these items laying on my desk or in my mailbox. This was definitely something that students can take care of on their own.
This project cost me $2.00 plus tax! Yes! I grabbed these 2 jars from the kitchen section of the Dollar Tree store. Then a sweet teacher friend made the vinyl cutouts for me on her Cricut machine. Viola! These jars stay near student mailboxes and students place the items inside. Such an easy management idea. Don't be concerned if you don't own a Cricut or Silhouette machine of your own. I find most people have a friend, family member, teacher friend or even a parent who would be happy to assist! Just ask!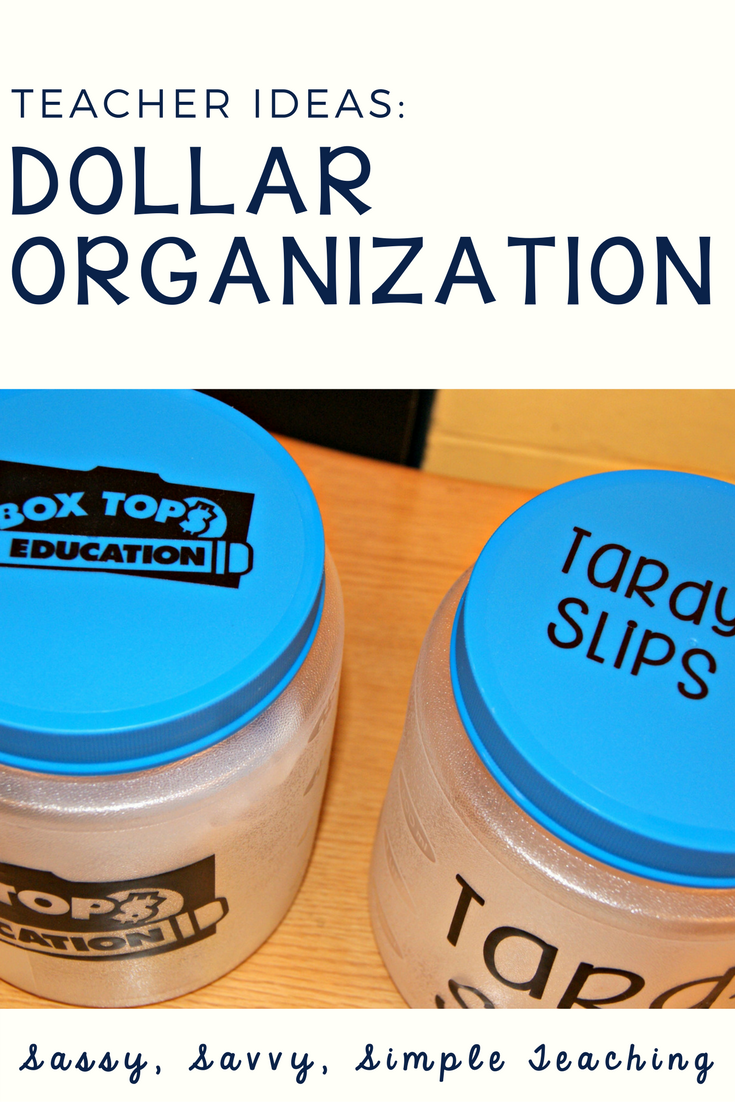 #2 – Student Mailbox Numbers
One of my favorite organization management areas are my student mailboxes. They are the perfect size for all of those papers you need to send home and very sturdy. I purchased this mailbox here on Amazon. Worth every penny! This project cost me just a few dollars to organize because all I needed to purchase a white paint pen. I used my Michaels coupon to do so. I gathered medium size binder clips for our supply closest. Amazon has a great deal on these binder clips here. Then I spent a few minutes writing student numbers on them and clipping them to each mailbox. Done! This worked out great because I don't have to worry about writing on the mailbox tabs themselves or using labels that would peel off.
#3 – Student Supply Pockets
This project was quick and easy! I came across two matching door shoe organizers at Ross for $5.00 plus tax each. I of course liked the light gray pattern because it went with my classroom. But, you can purchase inexpensive shoe organizers anywhere. I have also purchased these 24 pocket shoe organizers here on Amazon for my classroom previously. I needed an additional storage place for my students to use for their headphones, pencil pouches, etc… because I do not use desks in my classroom as I have a complete Flexible Seating classroom. You can read about my Flexible Seating classroom here. I then used the same white paint pen from above on my mailbox project and more medium size binder clips to write student numbers on. I clipped the student numbers to each pocket and hung the organizers on the back on my bathroom doors. This project took less than 5 minutes and I am happy with the results and the space saving it provides me with.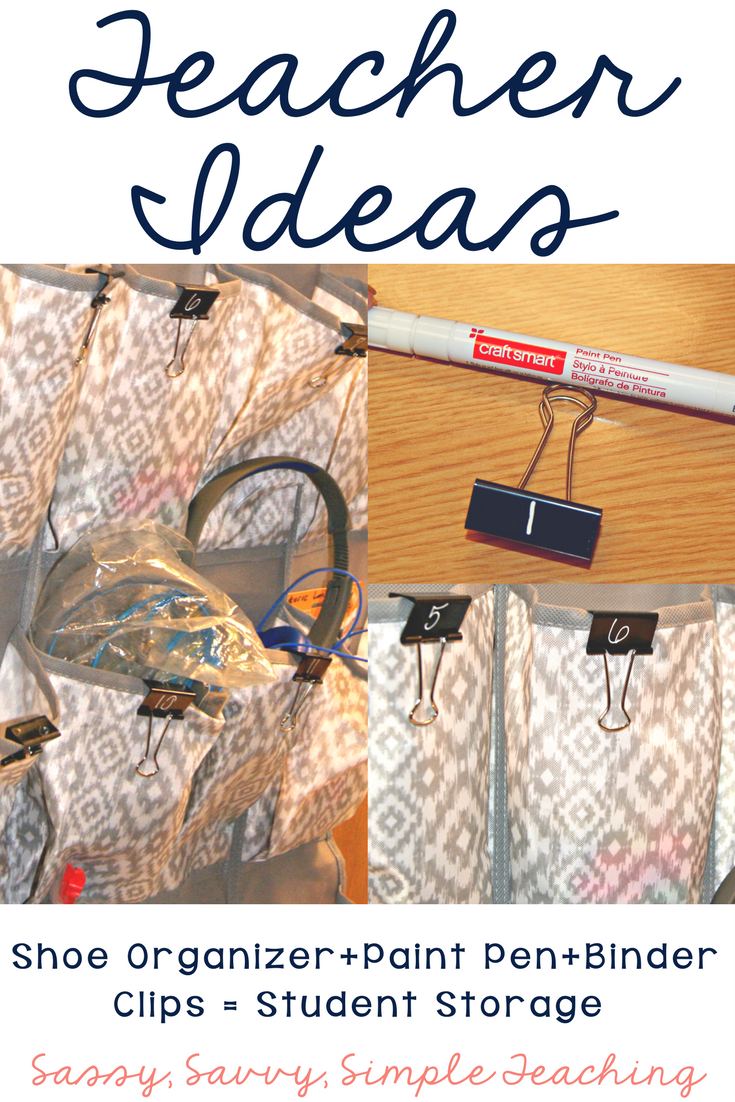 #4 – Focus Area
Target for the win! A few dollars later and I have an eye catching area for students to view each day. My LOOK area is set right between my weekly Focus Board and my Daily Agenda. You can read about my Focus Board here. I grabbed this specific set of large googly eyes from the party section at Target. But, I have an additional set that I grabbed from the Target Dollar Spot. So check your Target Dollar Spot and party section next time you are there! Figure out where you want students to view information daily and adhere them using tape, command strips, hot glue, etc… I made the capital L and K using green card stock and laminating. You can grab the L and K here by joining my mailing list along with other FREE resources, then print on any type of paper you would like. Click HERE to join!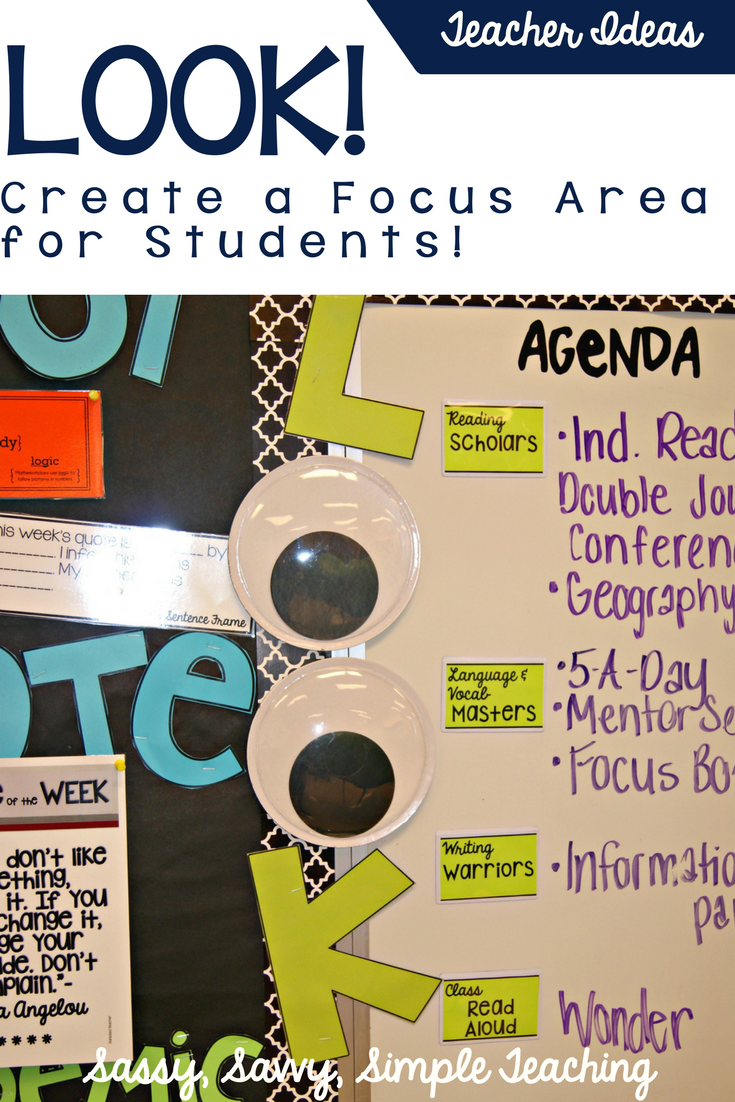 Ready to create your own? Do you have your googly eyes? Click below or here to download the FREE LETTER L AND K and print on paper of your choice!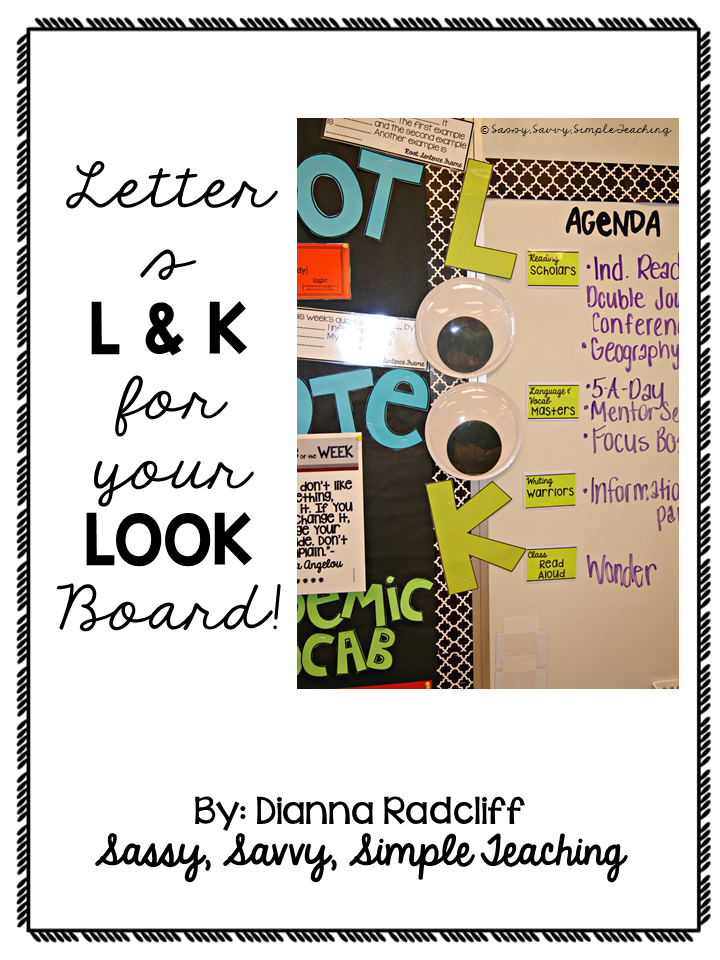 #5 – The Pencil Solution
Do you have a handy family member or friend? Maybe a parent? Do you or someone you know have an extra piece of wood in their garage? To create these pencil blocks I asked my father-in-law to cut 2 even blocks and drill 25 holes in them the size of a mechanical pencil. Being a 1:1 classroom, we don't use pencils very often, but when we do students always need to borrow one and then they are gone forever. I also, don't like to use pencil sharpeners, so I prefer mechanical pencils in my classroom. I find my students prefer them as well. Once I received these 2 blocks from my father-in-law, I used a black craft paint and 2 paint pens I already had to decorate the block by my 2 homeroom classes. Then during the back to school supply sale, I purchased a 50 pack of mechanical pencils for less than $10.00 plus tax. I took matching wasabi tape I had, wrapped then pencils and numbered them. At the beginning of the year when I was going over my classroom routines and procedures, I showed my students. I told them that this is their only "borrowed" pencil from me for the first semester! This summer I recorded a Facebook Live to share how I created these pencil blocks to solve my pencil problem.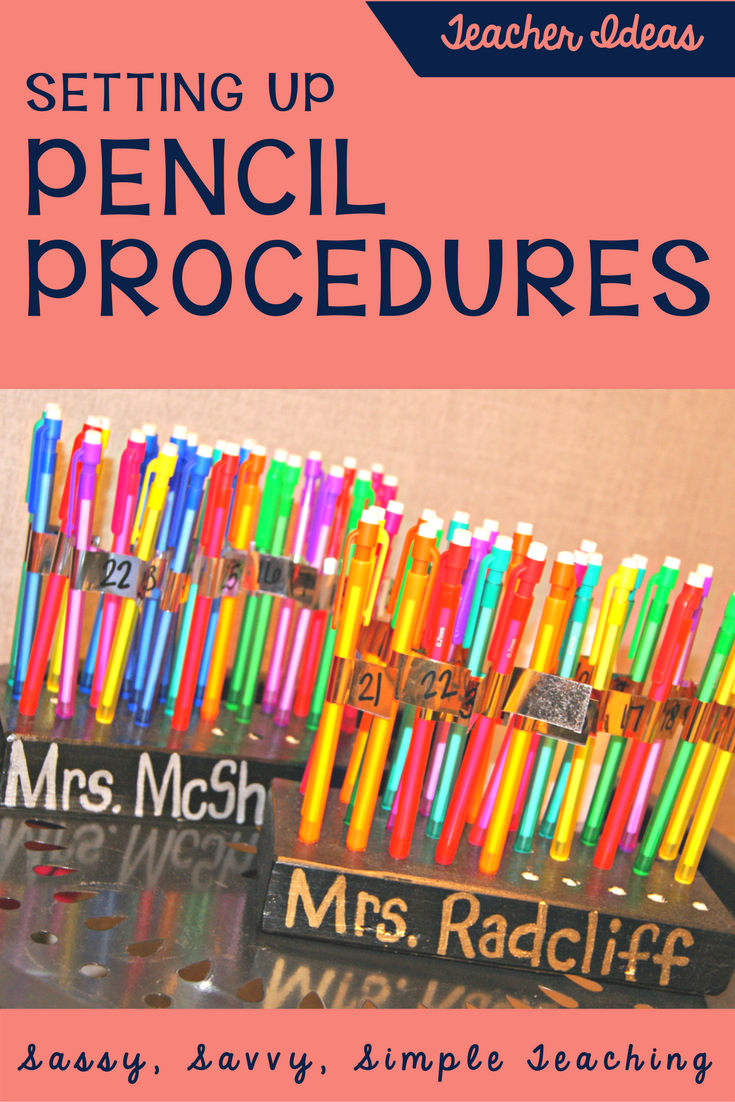 I hope these tips and ideas help you with your students as solutions to classroom management and routines! Be sure to follow me along my journey for more tips, ideas and resources by clicking my social media tabs at the top of my page!