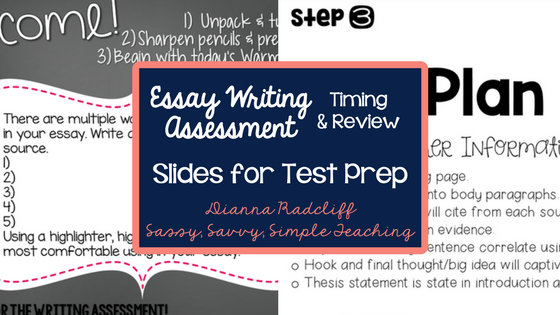 Do you assess your students through a state Essay Writing Assessment? Do you struggle with finding ways to teach the test taking strategy of self pacing? Are you looking for review tasks to prepare your students?
If you answered yes, then you are in the right place!!!
Teaching Self-Pacing and Timing:
As a 5th Grade ELA teacher in Florida who administers the state Essay Writing Assessment each Spring and I needed a simple visual to implement into my instruction when teaching students the strategy of monitoring their time. Students need to be able to track how much time they are spending in each part of the essay writing process in order to finish within the allotted time given. Unfortunately, as educators we can teach test taking strategies as a genre through our daily instruction. But self pacing for an essay, is sometimes tricky for us to implement into our instruction.
Therefore, I created these simple slides to utilize in my classroom during my writing instruction. I have implemented these timing slides in a few ways.
Writing Day! After every few essays, I make an entire block a writing day. This is where we write an entire essay in one class period versus over a week or two. I project these slides through the essay writing process that day. I have them set on timers so they automatically change throughout the 120 minutes. During the day I do write and model alongside the students. I do prompt them and give reminders of the writing lessons we have had has we go through the process. To me, it is most important that they acknowledge the time they should use for each area of the writing process and then learn to watch they clock to self pace. As the year progresses on these writing days, I model and guide less and less.
Writing Block Instruction! During my regular writing instruction I will use one of these slides on a particular day. For example, if we are reading, annotating and coding sources during my writing block that day I will post on the SmartBoard the slide for that allotted time amount. I will set a timer and we will go through the process together and/or alone. When the timer goes off, we will have some discussion about self-pacing and if they completed the reading task or not. I find this useful in training students not to rush, but not to go over the time allotted. It allows students time to self-reflect on their pace.
Grab your FREE copy by clicking HERE or on the image below!
There are two versions, the first version is as seen above with reminders and tips listed. The second version is without the reminders and tips.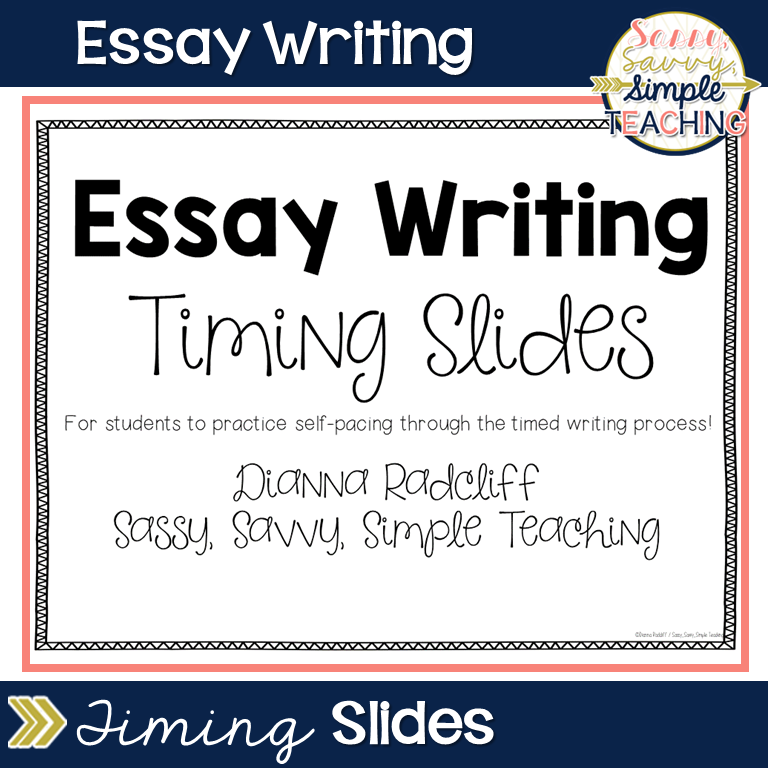 Essay Writing Assessment Review Slides – Test Prep:
As the state Essay Writing Assessment approaches each Spring I continue my daily Writing Workshop lessons, Guided Writing, Conferencing and etc… But, at this point there are a handful of basic components to the assessment that all students need to be able to do independently to be successful regardless of their independent writing level.
The slides represent these specific items: rubric, planning, recognizing opinion vs. informational, transitions, attention grabbers, introductory paragraph, concluding paragraph, etc.…
Therefore, I created these slides to review items prior to the state Essay Writing Assessment. I have implemented these timing slides in a few ways.
Bell Work / Morning Work. Students have recorded in their journal.
Whole group Writing Warm-Up response when beginning my Writing Block. Students have worked independently and together to respond on white boards or in their journal.
Grab your copy of this resource, Essay Writing Review Tasks for Test Prep HERE or by clicking on the image below!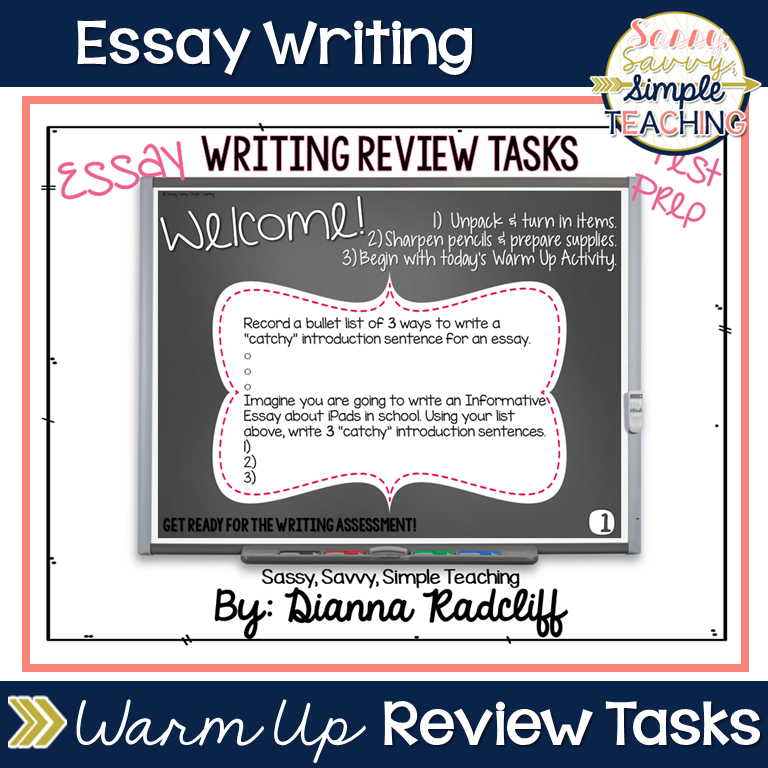 I hope you find these resources useful in your classroom!